Sponsored post.
If you've been a reader for awhile, you know that I like giving old things new life, particularly by refashioning them. Which is why Howard's Jewelry Center, a Cleveland area chain, was a good fit for this post. Howard specializes in unique, one-of-a-kind refurbished jewelry, the one-of-a-kind jewelry that would make a great gift for the person on your list who you want to give a little bling.
Howard and the team are GIA-certified, which lets you know that you're getting genuine, thoroughly graded diamonds. I think when it comes to refashioning fine jewelry, the professionals are the ones to go with. And the folks at Howard's pride themselves on providing quality jewelry at great prices.
Although I think refurbished jewelry would make an excellent gift because the jewelry was given new life and already has a history, they also have completely new pieces to choose from. Here are just a few of my favorite pieces from the various collections at Howard's: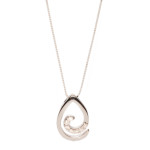 HowardsJewelryCenter.com also has color-specific collections, perfect for someone who has an obsessive love of a certain color… the way I love green. As a plus, the halo-style setting (available in all the shops) is a classic style. The collections are titled: Blue Mood, Go Green, Red Hot and Hot Chocolate.
And according to a 10-year-old statistic (the only one I could find), about 26% of proposals happen during the holiday season… meaning a fair number of engagement rings are required this time of year. Howard's has a great-looking selection of engagement and wedding rings, including a collection of engagement rings under $999.
I enjoyed browsing Howard's website, but if you'd rather check out bling in person, they've got four locations (Maple Heights, Parma Heights, Garfield Heights and Mentor). I obviously like white gold and silver, but  they do carry other color metals. One of the other cool things, is that Howard's buys old jewelry and offers free appraisals on it. That lets you get cash for something that might be sitting around in a box or drawer and gives Howard the opportunity to give it new life.
Do you have anything sparkly on your wishlist this Christmas? Have you ever gotten a refurbished piece of jewelry, what was your experience?
NOTE: This is a sponsored blog post and I am being compensated for writing it. As is my policy, I will not agree to write a sponsored post, or post a product review, if I disagree with the company, product or service. As always, opinions in the post are all mine.